Trade and economic cooperation
In 2021, the trade turnover with Croatia reached USD 27.7 million, which is 66% more than in 2017. Meanwhile exports of goods reached USD 12.7 million, thus exceeding 2017 by almost 2 times.
The exports structure includes approximately 50 product groups. The most important of them belong to forestry and woodworking, furniture, metal industry (winding wires), fertilizers, furniture, plastics.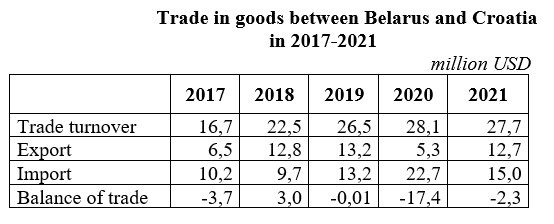 Import from Croatia is dominated by pharmaceutical, perfumery and cosmetics, metal products, industrial appliances.
Bilateral turnover in services is in the margins of USD 20 million. Transport, construction and business services account for more than a half of total exports.
As of January 1, 2022 the inward stock of investments from Croatia in Belarus values USD 20.7 million. There are 11 companies with Hungarian capital operating in Belarus and no companies with Belarus capital in Croatia.